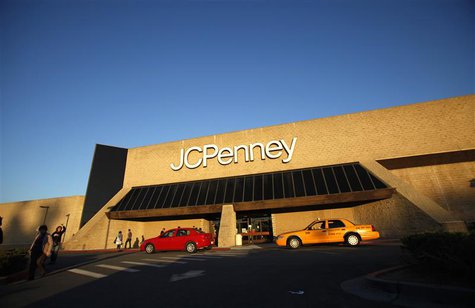 By Phil Wahba and Dhanya Skariachan
(Reuters) - Now that activist investor William Ackman has stepped down after a week-long public spat with fellow board members at J.C. Penney Co Inc , all eyes are back on whether the department store chain can avert a potentially disastrous sales decline this holiday season.
Next Tuesday, the retailer is expected to report a 7.4 percent decline in second-quarter same-store sales, thanks largely to the lingering effect of former CEO Ron Johnson's failed no-discounting strategy, which caused many of Penney's traditional middle-class customers to desert the store group. Its sales fell 25 percent in 2012.
If the quarterly sales decline is deeper than expected, the gross profit margin deterioration more dramatic, or cash on hand drops more than expected, it will stoke fears that Penney's return to discounting through coupons to revive sales is not taking hold with shoppers.
"These guys have re-ignited the couponing, but I don't think they've gotten the results they wanted," said UBS analyst Michael Binetti, who expects a 14 percent same-store sales fall. "It's going to be harder, and more expensive to win these customers back."
Analysts lowered their estimates for Penney last week after several retailers said July sales had been fueled by discounting, suggesting a very competitive back-to-school season on the way to the Christmas holiday period.
Concerns about Penney's performance helped to fuel a boardroom battle with Ackman in the past week. It ended when the hedge fund billionaire - who with his 18 percent stake is the largest Penney shareholder - agreed to step down from the board. People close to Ackman and the retailer said his decision to leave the board was necessary for Penney to focus on its operations and continue its look for a new CEO.
If shoppers continue to stay away from the company's stores, that could force it to spend more on advertising and offer more discounts.
Morgan Stanley analyst Kimberly Greenberger last week lowered her gross margin estimate to 29 percent from 32.2 percent because the retailer resorted to more clearance sales. Before Penney switched to Johnson's strategy in 2012, gross margin had been 36 percent, comparable to that of its most direct rival, Kohl's Corp .
CASH IN SPOTLIGHT
Vendors and creditors will be looking closely at its cash at the end of its second quarter, how much was spent on the store remodels it has now halted, and what other cash outlays it expects to make in its current third quarter.
"Everyone is just really focused on how much cash do they have on their balance sheet and what the holiday season is going to bring," said Keith Vercauteren, a senior managing director in the capital finance arm of Wells Fargo , which has many retail clients.
Penney said earlier this month that it had finished its second quarter with $1.5 billion of cash on its balance sheet, and it denied news reports that commercial lender CIT Group had put a clamp on loans to Penney's small vendors. Still, the total was less than many on Wall Street had expected, and stoking fears it was burning through cash too quickly.
Myron Ullman, whose ouster from the CEO job Ackman engineered in 2011, came back into the same position in April in an effort to stabilize the business. His efforts have included an ad campaign that tries to reassure Penney's traditional customers that it hasn't deserted them, heavy discounts and the return of popular, low priced private brands such as St. John's Bay that Johnson had dumped.
Analysts say Penney's sales haven't gotten a lift because not enough of the low-cost basics that long-time shoppers favor are in stores yet, while shelves are full of items Johnson ordered for the summer, including home goods by hip designers Michael Graves and Jonathan Adler that haven't drawn in new shoppers.
"The second quarter is not Ullman's doing - it's all Johnson," veteran retail analyst Walter Loeb said. "The merchandise Ullman ordered is still not in shelves."
The return of peace and decorum to Penney's boardroom will buy the company a bit of time, as will the arrival on the board of Ronald Tysoe, a respected retail veteran.
But Penney still has a number of critical vacancies in its executive suite - namely heads for information technology and its home goods section - while also still hunting to replace Ullman as CEO. Filling those jobs with top names could be costly.
"It's going to be very expensive - if you're a credible retail manager, this is the hardest situation you can get into - this is taking on a lot of career risk," Binetti said.
The quality of next Tuesday's results will be closely scrutinized by Penney's suppliers, and the factors who supply them with financing.
"Wednesday will be crunch day after vendors and factors have had a chance to review the financials, particularly the cash burn," said Bob Carbonell, chief credit officer of Bernard Sands LLC, a credit advisory service.
(Reporting by Phil Wahba and Dhanya Skariachan in New York; Editing by Edward Tobin, Martin Howell)