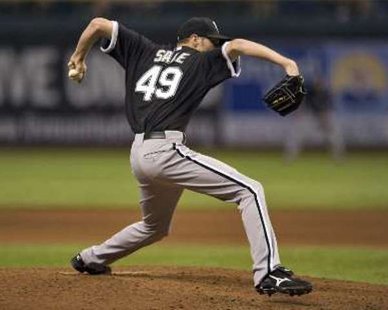 Chicago, IL (WKZO) – Chris Sale shut down the Tigers after a rough start and the White Sox offense scored three runs in the fifth inning to take the lead as they defeated the Tigers 6-2 on Monday night to take the first game of a three game set at US Cellular Field.
Sale allowed one run in the both the first and second innings and then kept the Tigers off the board from that point on as he picked up his third complete game of the year. Sale allowed nine hits and struck out six for his 8th win of the year. Sale gave up a solo home run to Miguel Cabrera in the first inning, Cabrera's fourth home run in as many games and 37th of the year. The home run for Cabrera was number 358 of his career, which ties him for 80th all-time with Yoga Berra and Carlos Lee. Cabrera also became the fifth hitter in the last five seasons to have two separate streaks of four games with consecutive home runs in the same season.
Brayan Pena's double in the second inning scored Matt Tuiasosopo after he reached on a single, to increase the Tigers' early lead to 2-0. Pena made the start behind the plate and will likely get extended time back there with Alex Avila being placed on the 7-day DL with concussion likely symptoms and even on Monday night was still complaining of lingering headaches.
Doug Fister made the start for the Tigers and while he was good early, things started to unravel in the fourth inning after he loaded the bases but only allowed one run on a wild pitch. Then in the fifth inning the White Sox started the inning with a ground rule double from Jeff Keppinger, and followed up with four more singles resulting in a three run inning. Fister was done after six innings and finished with just one strike out, three walks and eight hits allowed. His record drops to 10-6 with the loss.
The White Sox added on two more runs in the eighth inning off of Al Alburquerque and Bruce Rondon.
Omar Infante made his first start back with the Tigers after spending over a month on the DL and went. Hernan Perez was optioned to Toledo to make room for Infante on the 25-man roster.
Former Tigers prospect Avisail Garcia made his first appearance against his former club and went 0-4 but was at bat when Doug Fister threw the wild pitch with the bases loaded to score the White Sox first run
Tigers look to end their two game losing streak on Tuesday night in the middle against the White Sox as Max Scherzer looks for win #18 against White Sox lefty Hector Santiago. Coverage beings on 590 WKZO at 7:45 with first pitch set for 8:10.