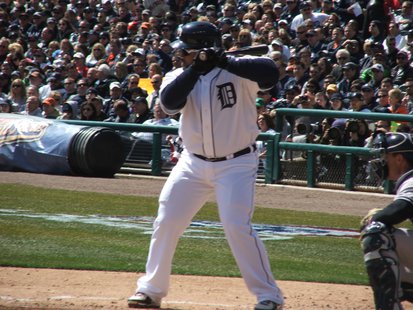 Detroit, MI (WKZO) – Down by two with two on in the sixth inning, Prince Fielder blasted his sixth home run of the year into the Twins' bullpen in left field to give the Tigers a 4-3 lead, and the score remained the same for the Tigers, as they captured their fourth victory in a row, taking the first of three against the Minnesota Twins on Monday night.
Max Scherzer struck out 10 in 7 1/3 innings while allowing 3 runs – all earned – to pick up his third win of the year. Scherzer's 10 k's were the third time this season he has reached a double figure strike out total.
Twins starter Mike Pelfrey allowed the long ball to Prince after Andy Dirk opened the inning with a bunt single and was followed by a walk to Cabrera. Pelfrey (2-3) went 5.1 innings allowing all four runs to the Tigers.
Tigers Highlights:
*Batting second in place of Torii Hunter, Andy Dirks belted his first home run of the season in the second inning, cutting the Twins lead in half 2-1.
*Drew Smyly came on in relief of Scherzer and retired all four batters he faced. Joaquin Benoit closed out the game recording the final out of the game. Tigers' pitchers set down the final 15 Twins batters.
Tigers Lowlights:
*Scherzer allowed single runs to the Twins in the first, second and fourth innings. The Twins got on the board in the first inning when Josh Willingham blasted a solo shot, his fifth home run of the season. Twins scored in the second after Aaron Hicks grounded out to first scoring Trevor Plouffe from third who singled to reach base. In the fourth, Oswaldo Arcia's doubled in Chris Parmelee from second for the Twins final run.
*With runners on first and second and only one down in the first inning, Prince Fielder and Victor Martinez failed to drive in a run.
*Alex Avila led off the fifth inning with a single but Omar Infante followed up by grounding into a 6-4-3 double play. Don Kelly hit a triple next but was stranded at third.
Game Notes: Miguel Cabrera's 12 game hitting streak was ended as he failed to get a hit in four plate appearances. Cabrera however walked twice…Justin Verlander (2-2, 1.95 ERA) looks for his first win in three starts as he takes the mound for Detroit on Tuesday vs. Twins starter Vance Worley (0-3, 6.38)