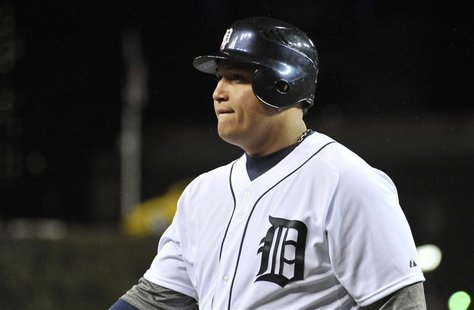 Detroit, MI (WKZO) – Miguel Cabrera scored the go ahead run in the sixth then added some insurance runs with a three run bomb to right field on a 3-0 count in the seventh as the Tigers cruised to an 8-3 victory over Atlanta on Sunday night, completing a three game sweep against the Braves.
Doug Fister tossed seven solid innings, allowing three runs, while striking out a season high eight to improve his record to a perfect 4-0. Fister allowed all three runs in the fourth when five straight Braves reached base after he recorded the first out of the inning.
Braves starter Mike Minor retired the first seven Tigers he faced before Detroit broke through with three in the third inning. With two runners on Austin Jackson hit his second home run of the season putting the Tigers up 3-0. Minor tossed 6 2/3 innings, allowing six runs – all earned – for just his second loss of 2013.
With the game tied at three in the sixth, Detroit regained the lead after Cabrera led off the inning with a double and after advancing to third on a ground out by Prince Fielder, he scored on a sac fly from Victor Martinez to put the Tigers up 4-3.
Tigers Highlights:
*Five of the first six outs Fister recorded came via the strikeout, including three in the first inning.
*Omar Infante hit his second home run in as many games with a solo shot off Minor in the seventh putting the Tigers up 5-3.
*Al Alburquerque relieved Fister in the eighth and struck out the side. He started the ninth and walked and hit the only two batters he faced. Jose Valderde replaced Alburquerque and got the next three Braves out.
Tigers Lowlights
*With a chance to limit the damage during the Braves half of the fourth, Infante couldn't turn a double play as his throw to Fielder at first was off line and the third run of the fourth inning was scored tying the game.
*Fister hit two batters and is now leading the league in hit batsmen with eight. The next highest total is four shared by three other pitchers.
Game Notes: Light rain continuously fell over Comerica Park throughout the contest, but the game was never delayed…Matt Tuiasosopo made his third consecutive start in left field and went 1 for 3 on Sunday and is 4 for 10 over the last three games…Miguel Cabrera now has a 12 game hitting streak… The Braves struck out 11 times on Sunday and 39 times during the three game series…The Tigers welcome the Minnesota Twins to Comerica Park for three games starting on Monday night. The Twins defeated the Tigers two games to one in the opening series of the year in Minneapolis. Max Scherzer (2-0, 4.13 ERA) starts for Detroit vs. Twins' righty Mike Pelfrey (2-2, 7.94). First pitch is set for 708 on 590 WKZO.