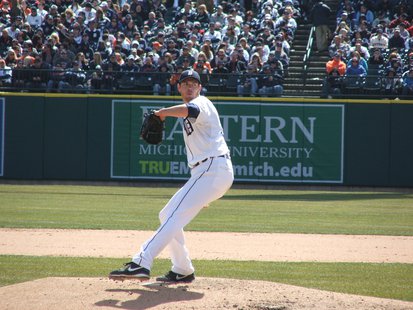 Seattle, WA (WKZO) – As a member of the Seattle Mariners it was a normal occurrence for Doug Fister not to receive any run support. This hasn't been the case as a member of the Tigers and 2013 has been no exception. The Tigers scored a total of 19 runs during Fister's first two starts, and while they could only muster up six runs for Fister on Tuesday night, it was more than enough, as he allowed just two runs in seven innings of work in the Tigers 6-2 win over the Mariners in the opener of a three game series at Safeco Field.
It was a relatively easy outing for Fister, getting the first 10 Mariner hitters out in order before a shaky fourth inning in which he surrendered the two runs. Back to back doubles from Kyle Seager and Kendrys Morales tied the game at one, before a Michael Morse single scored Morales, putting Seattle up 2-1. Fister calmed down after that point and got 10 of the next 11 Mariners out.
The lead for Seattle didn't last long, as Miguel Cabrera blasted his second home run of the year in the next inning, a two run shot over the right center field fence off Mariners starter Aaron Harang, scoring Torii Hunter, who singled with two outs to extend the inning. Harang went just five innings in his first start of the year.
Tigers Highlights:
*Austin Jackson opened the game with his first triple of the year and later scored on a Cabrera single for a 1-0 lead for the Tigers. Cabrera singled home Jackson in the seventh for a 4-2 lead. Cabrera had four RBIs and has 17 this year.
*Torii Hunter extended his hitting streak to 10 games with a single in the third and with his second hit in the fifth, now has 10 multi-hit games this season.
*Victor Martinez had his first three hit game with a double in the fourth and singles to lead off the sixth and the eighth.
*Detroit scored their final two runs in the eighth inning on back to back bases loaded walks.
*Relieving Fister was Al Albuerquerque, who tossed a 1-2-3 eighth inning with two strike outs. Joaquin Benoit pitched the ninth and had two strikeouts.
Tigers Lowlights:
*Tigers were striking out on average 5.5 times per game. On Tuesday they struck out 16 times.
*Prince Fielder went 0-5 with four strikeouts. Alex Avila went 0-4 and struck out three times.
Game Notes: The Tigers have 10 or more hits in seven straight games…Jackson has reached base in all 13 games this season…Detroit has scored first in 11 of 13 games…Jhonny Peralta had two hits, a single and double…Former Tiger Charlie Furbush replaced Harang to start the sixth. Furbush along with Casper Wells, Chance Ruffin, and Francisco Martinez were traded from Detroit for Fister and David Pauley. Furbush went 1 1/3 innings while striking out three…Max Scherzer (1-0, 4.09 ERA) and Felix Hernandez (1-2, 3.05) start on Wednesday. Game time is set for 10:05 PM.