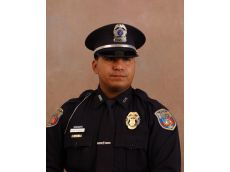 KALAMAZOO (WKZO) -- The second annual EZ 5k Memorial Run honoring the memory of Kalamazoo Public Safety Officer Eric Zapata is coming up next weekend.
The 5k run honoring the memory of Zapata, killed in the line of duty in April of 2011, will be held at Kalamazoo Valley Community College. Pre-registrations for the event will be taken until April 17th.
Donations and sponsorships for the event go toward the Eric Zapata Memorial Foundation, which uses those funds to maintain a scholarship fund. Those scholarships are for students enrolled in the law enforcement programs at KVCC and at Grand Rapids Community College.
The event will get underway on Saturday, April 20th, with pre-registration starting at 7 a.m. and the walk and run starting at 9 a.m. Registration is easy and more information can be found online at EZ5k.org.