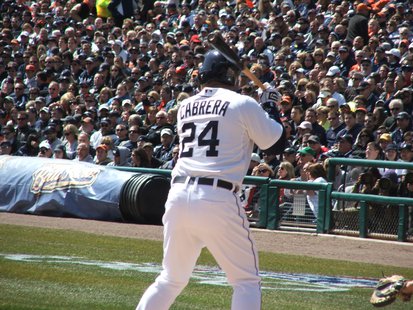 Detroit, MI (WKZO) – During his six seasons in a Tigers' uniform, it had never taken Miguel Cabrera more than three games to hit his first home run of the season. This year it took the 2012 AL MVP until game seven to finally hit his first long ball. It was definitely worth the wait. Cabrera had four hits, including a three-run homer in the fourth inning, busting the game open for the Tigers, as the defeated the Toronto Blue Jays 7-3 on Tuesday afternoon.
Although the power numbers haven't been there for the reigning Triple Crown winner, he has still been reaching base and driving in runs. Cabrera is 8-13 in his last three games and leads the Tigers in RBI's with 10.
Torii Hunter continued to shine in a Tigers' uniform with three hits and is hitting .424 (14-33) in seven games. Prince Fielder and Alex Avila each had two hits as well.
While the bats were hot on a cold day in Detroit, the pitching was just as sharp as Anibal Sanchez got his first win of the season. Sanchez went seven strong innings while striking out eight and only allowed two earned runs. He gave up five hits and walked just one.
Tigers Highlights:
* With two outs in the first inning, Prince Fielder drove a deep fly ball to the gap in right field, scoring Cabrera from first to put the Tigers up 1-0.
*Making the start in left field for Andy Dirks, Don Kelly made a leaping catch to rob Jays' catcher J.P. Arencibia of a homerun in the second inning.
*A day after becoming a father for the first time, Alex Avila hit his second home run of the season in the second inning giving the Tigers a 2-0 lead. It was his first at bat after becoming a dad.
*Matt Tuiasosopo, pinch hitting for Dirks in the eighth, had an RBI double, his first run batted in this season.
Tigers Lowlights:
*While trying to score from second on a Cabrera single in the third inning, Torii Hunter was thrown out at home. He appeared to injure his hand but returned to the game. The Tigers later loaded the bases in the third but Jhonny Peralta grounded out to end the threat.
*The Tigers loaded the bases in the seventh with no outs but were unable to cash in. Prince fielder walked to start the inning, followed by singles from Dirks and Avila. Jhonny Peralta popped out to second, Don Kelly lined out to center and Omar Infante grounded out to end the inning.
*Joaquin Benoit allowed a solo home run to Colby Rasmus in the ninth inning for the Jays' third run.
Game Notes: Melky Cabrera's single in the first inning was his 1000th career hit…Cabrera's homerun was his 100th career HR at Comerica Park. His four hit performance was his 27th for his career and second this season…Torii Hunter's third hit of the game in the sixth inning was his 2000th for his career…Drew Smyly and Al Alburquerque combined to pitch a scoreless eighth...Blue Jays #3-9 hitters were 3-27…Rick Porcello and Mark Buehrle will start on Wednesday for the Tigers and Blue Jays, respectively.