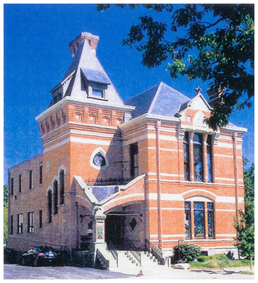 KALAMAZOO (WKZO) -- The Kalamazoo Ladies' Library Association is in the midst of doing an upgrade to its historic building downtown.
The Ladies Library, which sits at Park and Lovell Streets, was constructed in 1879 and is still used to host local functions. However, the Ladies' Library Association's Sonja Bernard-Hollins says there's one problem -- it has a narrow staircase, and no elevator. So, some people have trouble makiing up to the second floor.
The Ladies' Library Association has been quietly raising money to help complete construction of the elevator add on. The work has already begun, but there's more to do, in order to ensure the addition doesn't affect the aesthetic of the structure. Anyone looking for more information can go to www.KalamazooLadiesLibrary.org .