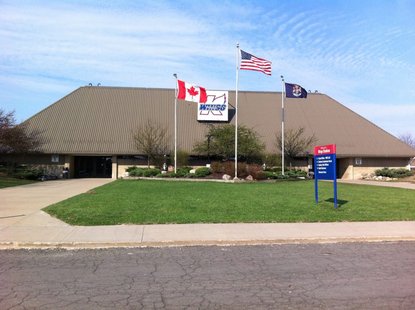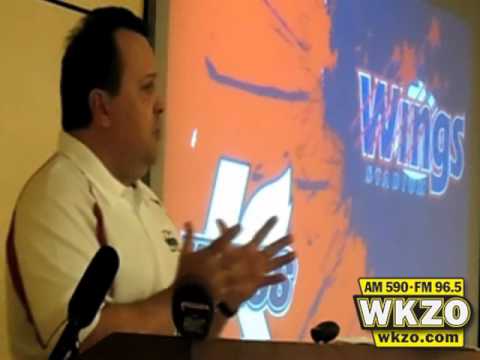 wHtPGKF-les
KALAMAZOO (WKZO) -- Staff members from the Kalamazoo Wings and Wings Stadium announced 2-million-dollars in renovations that according to to the stadium team will include a "spectacular 40 foot-by-12.5 foot full digital video board that will be capable of instant replay plus new fun and exciting promotions that provide for full fan interaction and enjoyment. "Wings Stadium has never had a video board before. This means that every K-Wings game along with many other events now become a fun and exciting entertainment event, in other words, we're now producing a show," Burlew commented.
SMC hired one of North America's top consulting firms, Total Sports Entertainment (TSE), to design and integrate the video board as well as the myriad of additional video and sound enhancements fans will see throughout the complex. To further enhance the entertainment experience, TSE will be producing a custom show for SMC events utilizing an eight-camera shoot using ESPN television quality cameras and equipment."
In addition Wings Stadium will now feature:
"SMC's new digital video board, which weighs in at almost 15,000 pounds, will replace the existing 3,000 pound, 12 foot-by-12-foot scoreboard that has been utilized at the stadium since 2004.
Accompanying the state-of-the-art video board, will be a new sound system custom designed and installed by TSE that will significantly improve the patron entertainment experience through the rich sound of vibrant and exhilarating music along with crystal clear public address announcements. In addition, The Annex is receiving a total sound upgrade for the first time since it was built in 1989.
Wings Stadium is also installing a slew of 46-inch digital monitors in each tunnel leading from the arena seating bowl to the concourse creating a "ribbon board" that will add to the overall fun and excitement, showcase advertisers and celebrate K-Wings goals like never before."
Video of the announcement held at the Radisson Plaza Hotel on Tuesday September 18th is posted above. The announcement was hyped as the "biggest moment since Wings Stadium opened its doors."
Read the Wings Stadium press release or follow the Kalamazoo Wings on Twitter. You can follow WKZO on Twitter here.