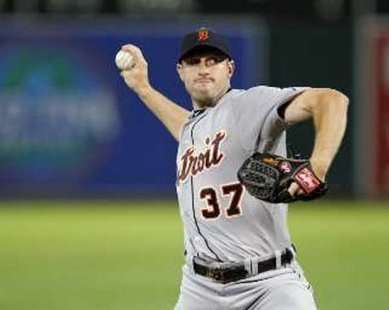 Note: For an end of games Tigers score update, text SCORES to 80373.
CHICAGO (1660 THE FAN) – The Detroit Tigers had another opportunity to move closer to the Chicago White Sox on Wednesday in the third of a four-game set at U.S. Cellular Field in Chicago.
A win would move the Tigers to within one game of the Sox in the American League Central, giving the team an opportunity to once again move into a first-place tie in the final game of the series on Thursday.
The Tigers trailed early following a fourth inning solo shot by Kevin Youkilis but quickly overcame the deficit in the fifth inning, scoring three in the fifth and five more in the later innings to top the White Sox 8-6.
Omar Infante started the scoring in the fifth with a ground out that drove across a run. Austin Jackson and Miguel Cabrera also hit RBI singles in the fifth inning. A three-run home run in the seventh increased the Tigers' lead to five runs and provided an even larger cushion for Detroit's pitching.
RBI doubles in the eighth inning by Austin Jackson and Alex Avila increased the Tigers lead even further, giving the Tigers a seven-run lead late in the game.
The Tigers would need that lead, though, as the bullpen struggled in the eighth inning. After reliever Brayan Villarreal gave up two walks in the eighth, Joaquin Benoit gave up an RBI single and a three-run homer to slim the Tigers lead to 8-5.
The White Sox would add another run in the ninth, but that would be as close as Chicago would get to making a comeback as Jose Valverde would earn his 30th save of the season.
Scherzer improved his record to 16-6 on the year, giving up one run and striking out seven in six innings. With his seven strike outs in this game, Scherzer has struck out at least seven batters in each game he has started since a July 14 start against Baltimore in which he struck out four. Since the beginning of August, Scherzer has only given up ten walks while striking out 69 batters.
Gavin Floyd took the mound for Chicago, going 4.2 innings while giving up three runs on four hits. The bullpen also gave up five runs in the loss.
The Tigers will wrap up their final regular season series against the White Sox Thursday night in Chicago's south side. The matchup will feature a rematch of aces as Justin Verlander will take the mound for Detroit against Chicago's Chris Sale. Dan Dickerson and Jim Price will have the call live on 590 WKZO starting at 7:45 p.m.
Be sure to "like" 1660 THE FAN and 590 WKZO on Facebook for up-to-date news, sports and much more!