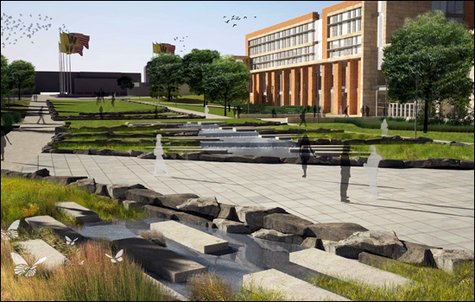 KALAMAZOO (WKZO) -- Western Michigan University is also back in session and they may not recognize the University's Central plaza. When they left in the spring, Sangren Hall was still just a construction zone and the landscape in front of it was parking lots. Now Sangren Hall is done and the plaza has been landscaped with plants and fountains.
They plan official opening ceremonies for the new Sangren Hall on September 21st. In the meantime, it's operational.
The first day of school went as smoothly as they can at the area's three largest school districts.Supt Patrick Bird at Mattawan Schools says they are trying out a new system that lines the buses up numerically, making them easier to find.
Supt. Michael Rice says they are expanding the pre-school opportunities they can offer.
Portage Schools is making the biggest change this school year, switching from half-day to all day Kindergarten. Dr. Rick Perry the Supt. Of Portage Schools says they had to modify 20 additional classrooms for shorter students. Kalamazoo Schools has had all day kindergarten for a few years.