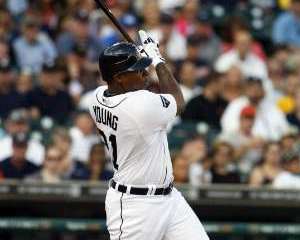 Note: For an end of game Tigers score update, text SCORES to 80373.
DETROIT (1660 THE FAN) – A sixth inning three-run home run off the bat of Delmon Young sealed a three-game sweep over the Chicago White Sox for the Detroit Tigers on Sunday in a 4-2 win.
The Tigers came into their weekend series against the White Sox three games back in the American League Central. Now, Detroit is tied for the division lead and has some momentum going into the final month of the regular season.
With the win, the Tigers are 10-4 against Chicago this season, securing a winning record in the regular season against the White Sox for the third year in a row.
Justin Verlander had a solid start on the mound for Detroit, going eight innings and giving up one run on four hits and striking out 10 leading to his 13th win of the season.
Chicago's Chris Sale was not so fortunate in his outing, going six innings and giving up four runs.
After a leadoff solo home run in the first by Chicago's Alejandro De Aza, Detroit tied the game in the fifth inning on a Brennan Boesch solo shot. The Tigers took a commanding lead in the sixth on Young's three-run homer. Jose Valverde notches his 28th save in the win.
The Tigers look to continue their winning streak within the confines of Comerica Park on Monday as the Cleveland Indians come to Detroit for the last time in 2012. Anibal Sanchez takes the mound for the Tigers against Cleveland's Corey Kluber, who will be looking for his first win of the season.
First pitch is at 1:05 p.m. Dan Dickerson and Jim Price will have the call live on 590 WKZO starting at 12:40 p.m.
Be sure to "like" WKZO and 1660 THE FAN on Facebook for up-to-date news, sports and much more!