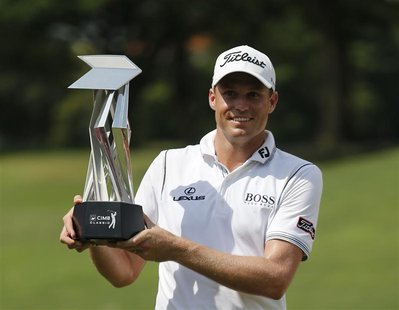 By Patrick Johnston
KUALA LUMPUR (Reuters) - Nick Watney was $1.3 million richer when he landed the CIMB Classic title on Sunday but after using three caddies over the four rounds, including his wife, the American's cheque will involve some big deductions.
Watney, the world number 22, was battling jet-lag and rustiness as he sat way off the pace standing on the 18th tee of his opening round on Thursday when his caddie Chad Reynolds fell ill.
With the stifling 34 degrees Celsius temperatures and high humidity in the Malaysia capital forcing Reynolds to seek medical care to deal with heat stroke, Watney looked around for a replacement.
With the majority of the crowd following 14-times major winner Tiger Woods, Watney had few options behind the ropes to help lug the heavy bag up the 409 yard last other than short and slender wife Amber.
"I was behind the rope watching the round and Nick just waved me over and said 'Chad is going to go to the first aid tent' I said 'ok'. I didn't know what I was getting myself into," Amber Watney told reporters on Sunday.
"I have never done it before but my dad is a caddie on the tour so Nick was telling me it is in the blood."
"I would get out the yardage book but I would have no idea what I'm doing. I don't play at all," explained Amber, the daughter of experienced PGA Tour caddie Rusty Uresti.
BIG IMPROVEMENTS
Watney managed to par the hole to sign for a level-par 71 as attentions turned to Reynolds, who received an intravenous drip at the Mines Golf Course and sat out Friday's second round with Amber Watney also sidelined.
"I put in my application for Friday's round but I was denied, but I was ok with that," she laughed.
With the use of a local caddie, Watney showed big improvements in Friday's second round, firing a six-under 65 to move up the leaderboard.
"(Reynolds) was sore on Friday so we urged him not to go back out but on Saturday he was ready to get back out there," Amber Watney said.
Another 65 followed on Saturday before a miraculous 10-under 61, with Reynolds back on the bag, landing the healthy winner's cheque after overcoming compatriots Bo Van Pelt, Robert Garrigus and Tiger Woods to win the 48-man event.
The importance of the Reynolds's return not lost on Watney.
"On 11, he talked me into laying up (on the par five) and we ended up making birdie and on the very next hole I wanted to hit a seven-iron, he said it was an eight, and I hit that to about four feet so he definitely helped me," Watney told reporters.
"I think it's just good to have someone you're are comfortable with there."
But with his second wedding anniversary coming up on Tuesday and money to burn following his Malaysia success, the Californian might have to spend more on a gift for his wife after her 15 minutes of help.
Asked whether she was aware of the customary 10 percent of prize money that caddies are reported to earn from golfers, Amber said she was unaware.
"I don't know, maybe we are going to have to negotiate."
(Editing by John O'Brien)