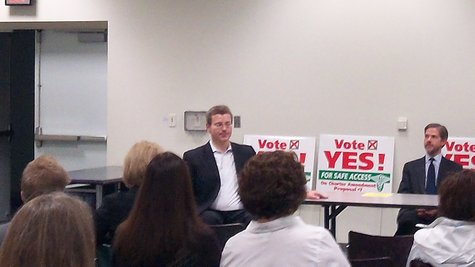 KALAMAZOO (WKZO) -- Kalamazoo Mayor Bobby Hopewell says the City of Kalamazoo has their own set of initiatives and charter amendments on the ballot in two weeks, but they aren't nearly as compelling as the state initiatives.
Hopewell says they mostly clean up outdated language, bring the city Charter into conformance with state law and clarify when commissioners meet.
There is a marijuana initiative on the ballot that would establish zoning for three Marijuana Dispensaries in Kalamazoo, but the issue may be moot until and unless the State Supreme court rules on the legality of dispensaries, they heard arguments on the "McQueen" case just last week, and have not yet issued their ruling.
Local Attorney John Targowski, an advocate for Medical Marijuana says he is optimistic the justices will reject the state's ban on dispensaries.
He says the fact is many cardholding patients just don't have a safe place to get their marijuana.
A public meeting to discuss that particular ballot initiative was held last evening in the Main Branch of the Kalamazoo Public Library downtown.