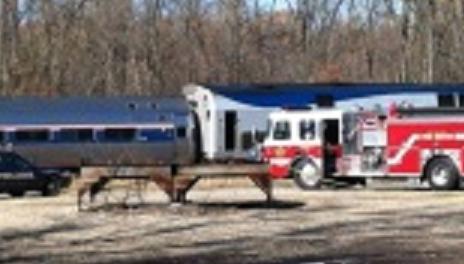 NILES (WKZO) -- An investigation is underway to determine why an Amtrak train headed for Kalamazoo and Battle Creek from Chicago derailed just after 10AM Sunday. The Wolverine, #350, ultimately bound for Pontiac, had just left the Niles station and was building up speed when the derailment occurred about two miles east of the station.
Passengers say they were enjoying the fall colors out their windows when the train began to sway violently from side to side and carry-ons, drinks and snacks began to fly. Seven suffered serious enough injuries to be transported to area hospitals. Several others were treated at the scene for less serious injuries.
The train remained upright and the cars remained in-line, but off the rails.
Most of the 174 passengers, who began the trip in Chicago, climbed on board charter buses and were transported to the Transportation Center in Kalamazoo where they climbed on board another train to complete their journey or found their own transportation.
AMTRAK service between Kalamazoo and Chicago was disrupted for the rest of the day. They have apparently been able to put the train back on the tracks and repair the rails overnight and resume normal service.