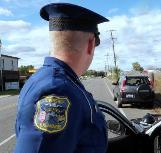 KALAMAZOO (WKZO) -- A man accused of robbing a bank may have been busted because of a lack of discretion.
The manager of Angel's Gentlemen's Club in Kalamazoo was spotted handing out money covered in red dye and gave a heads up to to Kalamazoo Township Police. Investigating officers discovered the man may have been the one to rob a bank in Southfield last Thursday around 1 p.m.
37-year-old Todd Jason Kettle of Rochester was arrested on six counts in connection with the armed bank robbery.