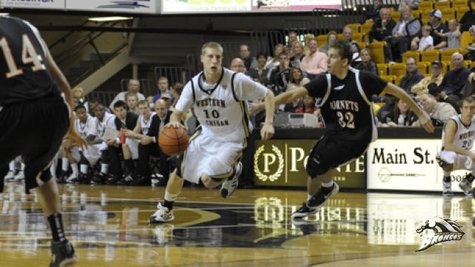 Note: For WMU men's basketball score updates, text BRONCOS to 80373
KALAMAZOO, MI (WKZO) - When the dust settled Thursday night at University Arena, it was an Austin Richie layup with five seconds remaining to pull Western Michigan over High Point 54-53. The Broncos are now 3-0 under Steve Hawkins against the Big South Conference.
The first half was dominated by Western Michigan who led by as many as 14 in the first half, and took a 12 point lead into the locker room.
The Panthers were resilient, coming out of the gate in the first four minutes of the second half, taking the lead halfway through the second, but the Broncos late life overpowered High Point down the stretch.
Western Michigan relied on their strong post presence to not only get the high percentage shot, but also get to the free-throw line. Brandon Pokely led the way from the stripe, finishing 6-for-8 with 12 points on the night. As a team, the Broncos finished 12-for-20 from the line, and scored 16 points in the paint. Darius Paul was the only other Bronco in double figures, finishing with 10 points.
Trailing by a point with 16 seconds to go, Coach Hawkins called a timeout and drew up a play designed for Nate Hutcheson. The Panther defense smothered Hutcheson on in-bounds, so it was Richie who had the ball with time winding down. Austin drove through the defense, throwing a reverse layup off the glass and through with five seconds left.
The win lifts the Broncos record to 5-1. They host in-state rival Oakland Saturday afternoon at 2 pm. The game features Hall-a-pa-hoopla, an opportunity for students living in the residence halls and apartments to win a free taco bar for the hall with the highest turnout.