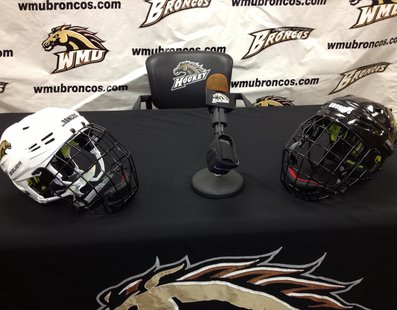 Note: For WMU hockey score updates, text BRONCOS to 8037.
KALAMAZOO (WQLR) – It's been what seems like a lifetime since the Bronco hockey team has played at home. Following two games in Alaska, followed by the Thanksgiving break, they return this weekend for a pair of games with Northern Michigan, and coaches and players alike are glad to be back at Lawson Ice Arena.
"Our team is certainly looking forward to playing at home," head coach Andy Murray said at the weekly press conference. "Northern Michigan is coming off of a 5-point weekend themselves, so having them at home for both games will hopefully work to our advantage."
Northern Michigan played Alaska over the Thanksgiving weekend at home, skating to a 4-3 overtime win Friday and a shootout win on Saturday.
"They are balanced on all of their lines, and they are a physical team that will present its challenges to us," Murray said, "Our job is to play Bronco hockey for 60 minutes. With the practices we had going into the break and this week, we're looking forward to the challenge this weekend."
Western Michigan brings a 6-3-1 record into the weekend, 3-2-1 in the CCHA despite playing five of their last six on the road. The Broncos are ranked ninth in the latest national polls, holding that position after the Alaska series. They've been ranked in the top 15 every week this season, and are now in the top 10 for the third week in 2012. Coach Murray attributes the early success and resiliency to the improved play of the sophomores, and in particular defenseman Jordan Osterle.
"He (Osterle) has improved dramatically in his physical presence from his freshman year to this season, and he is a leader on the ice."
Osterle has netted a goal on 14 shots, and tallied three assists on the season. He has a team-best +2 plus/minus rating along with Dane Walters.
"I definitely made it a deliberate effort to work in the offseason to get bigger and stronger, and I am happy it's paying off to help the team," Osterle said. "I feel more confident with the puck, and the coaches have emphasized me shooting more from the point and I feel that I can do that now that I'm more mature."
Despite all of the down time since their last game, Osterle said the weekend in Alaska left the team with confidence.
"As a team, we put an emphasis on competing in practice going into the break. It's important that we don't give Northern the edge from beginning to end."
Both games Friday and Saturday can be heard on 96.5 FM WKZO at 6:30 pm.