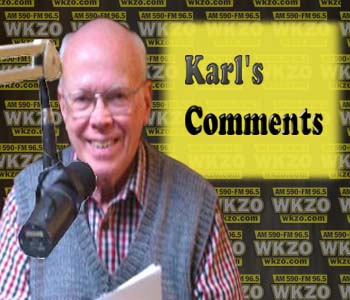 Not long ago, I commented in this column, on the flood of negative commentary from the delegate body of Michigan Farm Bureau, directed atMichigan State University. The University has been working very hard on its new perception of itself, and on its new direction. So many changes have been floated as trial balloons, and then implemented as though there has been general agreement. I've heard and read of a number of variations on the criticism of these new directions, but it's difficult to lay a heavy hand on someone or something on campus, and say, "This is what you're doing that's wrong . . . . . ."
I've heard several explanations from top dogs on campus as to what is really going on, and why it has to be, and how it really will work very well - - - and when the rationale wraps up, I still don't feel any more knowledgeable, and I'm certainly no more comfortable with the new direction.
That challenge to Michigan State University from Michigan's Agricultural community is about to assume a much larger profile. A year ago, as I commented earlier, there were several negative comments - - challenges, if you will, from the Farm Bureau delegate body. The complaints and other observations of that week, a year ago, were taken much to heart by the Farm Bureau administrative staff. I don't know how much sank in on campus, but this year - - next week, in fact, Michigan Farm Bureau meets again in annual session, and while there are training sessions and educational meetings galore throughout the week, the real justification for the meeting each year is to collect the thoughts of each and every County Farm Bureau, collate them into the thoughts of the State organization, to be designated for action in Michigan, and in many cases at Farm Bureau Federation headquarters in Washington. It's a major, major lobbying organization on behalf of Agriculture across the country.
So - - next week, we'll be tackling the policies and proposed actions. We've been advised that topics up for debate include energy, utilities, water oversight, risk management - - which used to be called "crop insurance", and the one that really has my attention -Michigan State University, noting that MFB's official policy on Michigan State University was completely revanped this year, emphasizing the organization's desire to see the institution better uphold its land-grant heritage and maintain its status as a world leader in agricultural education, research and extension programs.
Farm Bureau's new policy encourages MSU to refocus its efforts on core programs such as agronomy, animal science, agriscience education, horticulture, forestry, food industry management and other agricultural and natural resource programs.
Michigan State University's Provost, and President each and separately appeared briefly at last year's delegate session, and escaped with their heads still on their shoulders. Maybe they'll risk it again this year.
Karl Guenther is a retired farm broadcaster at WKZO and can be reached atkhguenther@charter.net. He is a member of Michigan Farm Bureau and an emeritus member of the National Association of Farm Broadcasting.