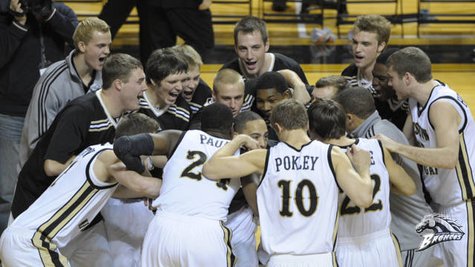 Note: For WMU men's basketball score updates, text BRONCOS to 80373
TAMPA, FL (WQLR) – The Western Michigan men's basketball team used a late game scoring run to finish off the University of South Florida Bulls 58-53 on their home floor Sunday. The win gives the Broncos their fourth straight, and the USF Invitational crown.
Brandon Pokley led the Bronco offense with 15 points, including 3-of-4 from 3-point range. Darius Paul added 14 points, and Nate Hutcheson recorded 11. Western Michigan finished 38.9 percent shooting from the field, making eight 3-pointers.
Battling a 2012 NCAA tournament team, the Broncos held South Florida to 37 percent from the floor and outrebounded the Bulls 39-26.
Short scoring runs in the second half were the difference, led by Nate Hutcheson. Following a three minute scoring drought for both teams, the senior forward hit a layup to give Western Michigan the 49-48 lead. USF cut the lead to two at 55-53 with time winding down, but Hutcheson put the game out of reach, drawing a foul on a layup with 24 seconds to go in the game.
Western Michigan is off until November 29th when they host High Point at University Arena.