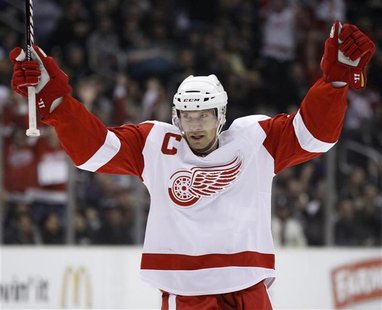 Note: Listen to the full press conference on Carolyn's blog by clicking here
DETROIT (1660 THE FAN) – After 20 seasons with the Detroit Red Wings, legendary defenseman Nicklas Lidstrom announced his retirement Thursday morning, ending a career for the record books.
His list of awards includes four Stanley Cups and seven Norris Trophies. The Norris Trophy is given to the best defenseman each year. The Wings' captain was joined by members of the front office and numerous Red Wings alumni, all of who were fighting back tears when Lidstrom stepped to the microphone.
"My drive and motivation are not where they need to be to play at this level," Lidstrom said.
The 42-year old Swede holds the NHL record for playing 1,564 games with a single team. Called "The Perfect Human" because of his incredible durability through 19 seasons, Lidstrom missed a career high 11 games with a bruised right ankle this season, and another with the flu.
His legendary career closes with 264 goals, 1,142 points and a 450-plus rating. Lidstrom was among the league's best in 2011-12 tallying 34 points with a plus-21 rating.
His retirement plans include moving his family back to his native Sweden while also having an off-ice role with the Red Wings.
Lidstrom concluded his announcement by saying "Retiring today allows me to walk away with pride, rather than have the game walk away from me."