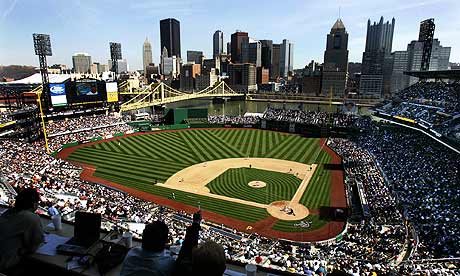 PITTSBURGH, PA (WKZO) - The Chicago Cubs lost against the Pirates in Pittsburgh in game 2 of the sweep. This was the Cubs 11th straight loss, something they have not seen since the late 1990s. Pirates first baseman Hague was struck by a pitch by Rafael Dolis in the bottom of the 9th. Earlier in the inning, Chicago's Dolis had struck Josh Harrison and also walked Neil Walker with two outs.
Pittsburgh's Hanrahan had two strikeouts in a perfect ninth, with the Cubs' Soriano hitting a homerun and Castro picking up a triple RBI. Soriano had broke a 20-inning scoreless streak with his fifth homer in the fourth for Chicago. Andrew McCutchen had reached base four times and scored one run for the Pirates. The Cubs had deliberately walked McCutchen with a runner at second and one.
Chicago's David DeJesus had two outs and Castro followed up with a triple bringing it to a 2-2 tie. Pirates' starter Paul Maholm was pulled after five innings consisting of 94 pitches. Maholm had two runs on four hits and five walks, all with two strikeouts.
Cubs will be starting with Garza tomorrow in Pittsburgh for the final game in the sweep at 1:35pm. Tune into 1660 the Fan for coverage.