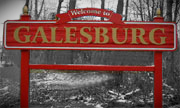 GALESBURG (WKZO) -- Sources now say that the driver involved in a fatal pedestrian accident Thursday evening near Galesburg may have been drinking.
They are waiting on toxicology tests before decided what charges to seek against the 35-year-old man from Galesburg. He is suspected of hitting 20-year-old Steven Kuhse of Galesburg as he walked along east Michigan Ave. near Winterburn just before 7pm Thursday.
The name of the driver is being withheld pending the issuance of charges.