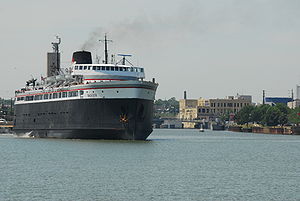 MANITOWOK,WISCONSIN (WKZO) -- The owner of the S.S. Badger says he will need more time to convert the ship to a cleaner fuel source. They say liquefied natural gas looks like the best bet, but it will take time. Bob Manglitz says they are submitting an application to the EPA for a five year waiver of new rules that would require they stop dumping coal ash into the lake by December.
He says power, sewer and steel plants are all allowed to dump more into the lake than the car-ferry does, and he is just asking for fairness.
The S.S. Badger's maiden voyage for the season was Thursday and it did not end well. High winds and a starboard engine problem blew the boat into shallow water and it grounded in Manitowoc Harbor. It took several hours to pull it free and for the big boat to dock.