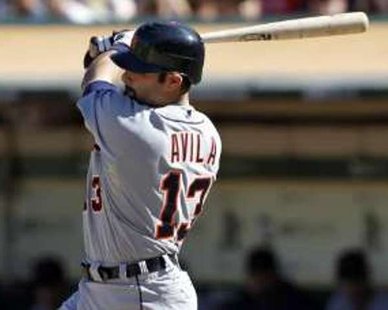 Note: For an end of game Tigers score update, text SCORES to 80373
CLEVELAND (WKZO) – Cleveland starting pitcher Ubaldo Jimenez walked six Tigers in six innings Tuesday. Detroit couldn't make the struggling starter pay, falling to the Indians in the first game of a three game set, 5-3.
Detroit's runs were scored in the second inning by way of an Alex Avila three-run homer off of Jimenez. His fifth homer of the season gave Detroit a two run lead, but that would spell the end for their bats. The Tigers managed only six hits in the game compared to Cleveland's 12 hits.
Rick Porcello continued his trend of inconsistent starts for Detroit, working 5.1 innings and giving up four earned runs on eight hits while striking out six. Before Tuesday, Porcello hadn't struck out more than four in as many innings. He left in the sixth after committing a throwing error on a pickoff attempt to first base. Duane Below and Luke Putkonen both logged time out of the bullpen, striking out a combined two batters, giving up four hits and giving up a walk in 2.2 innings of work.
Detroit continues to look for two wins in a row; they haven't done so since their season opening series with Boston. Doug Fister will start Game 2 of the series Wednesday looking for his first win of 2012.
First pitch on AM 590 WKZO is 7:05 pm.