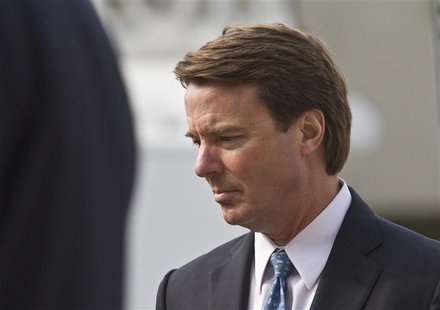 By Colleen Jenkins
GREENSBORO, North Carolina (Reuters) - Jurors resumed deliberations on Monday in the federal campaign finance case against former U.S. Senator John Edwards, who is accused of using political funds to hide his pregnant mistress as he sought the presidency.
Legal experts have said the outcome of the trial could expand the scope of what qualifies as campaign contributions in future elections.
A jury of eight men and four women in Greensboro, North Carolina, considered the case for about 5 1/2 hours on Friday before breaking for the weekend.
They must reach a unanimous verdict to convict Edwards, a two-time presidential candidate and the Democrats' 2004 vice presidential nominee, on any of the six felony counts he faces.
Jurors have nearly four weeks of testimony to weigh as they decide whether Edwards, 58, coordinated a cover-up aimed at keeping voters from learning of his extramarital affair while he sought the 2008 Democratic presidential nomination.
During their first day of deliberation on Friday, jurors requested office supplies and a full list of the exhibits published during the trial. They also asked to review certain evidence and testimony.
Prosecutors said Edwards masterminded a scheme that resulted in more than $900,000 from two supporters being secretly funneled to his mistress, Rielle Hunter, and his aide, Andrew Young, who during the campaign falsely declared paternity of the baby Edwards fathered.
The Federal Election Campaign Act states that excess contributions are illegal if they are made for the purpose of influencing an election for federal office.
Edwards' attorneys acknowledged that the former senator from North Carolina knew about the $2,300 limit on contributions from individuals.
But they argued that the payments from heiress Rachel "Bunny" Mellon and trial lawyer Fred Baron were private gifts - not campaign contributions - made to support Hunter and to prevent Edwards' cancer-stricken wife, Elizabeth, from learning he had fathered a child with his mistress.
"The bigger issue the defense raised is whether they were contributions at all," said Catherine Dunham, an Elon University law professor who has attended the trial. "It's an area where there isn't a lot of law."
Dunham said that legal point would be central to an appeal if Edwards is convicted of any of the charges, which include conspiring to solicit the money, receiving more than the $2,300 allowed from any one donor, and failing to report the payments as contributions.
Each count carries a sentence of up to five years in prison and a $250,000 fine.
Regardless of the trial's outcome, Dunham said the case sent a strong message about the Justice Department's willingness to pursue those who take illegal contributions.
"They have shown political candidates everywhere that they have a viable case under the law," Dunham said.
(Additional reporting by Wade Rawlins; Editing by Vicki Allen)