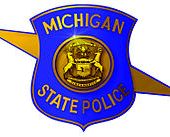 ALLEGAN COUNTY (WKZO) -- A suspected drunk driver who struck a couple on a motorcycle in Wayland Township Friday night, killing the woman and seriously injuring the man, is expected to face a list of charges when he is finally arraigned. The 57-year-old from Martin was driving along 129th Avenue when the collision occurred. State Police say the suspect fled the scene before officers arrived, leaving the couple seriously injured, and lying on the ground.
She would later die on the way to the hospital. No names have been released.
He was spotted later Friday night, traveling south on 10th Street, riding on just three tires, because of the damage caused by the collision. Despite that he tried to flee from troopers and when he finally did stop, his car burst into flames.
Troopers say he also resisted arrest. He was arrested for driving drunk causing death, and leaving the scene of an injury accident. He is expected to be slapped with a list of other charges after the prosecutors have reviewed the file.