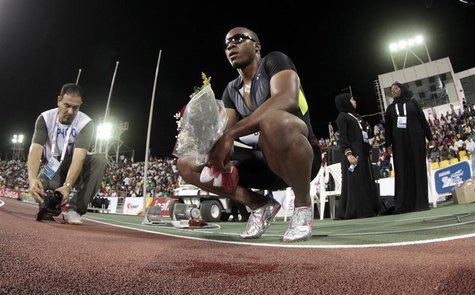 By Gene Cherry
RALEIGH, North Carolina (Reuters) - Double world silver medalist Walter Dix will miss Sunday's showdown against British sprinter Dwain Chambers in England because of a tight hamstring, he told Reuters on Wednesday.
Dix, favored to run the 100 and 200 meters for the United States at the London Games, had been scheduled to race Chambers over 150 meters in Manchester.
The American also pulled out of Wednesday's meeting in Daegu, South Korea, as a precautionary move.
"(This) being the Olympic year my coach, John Smith, pulled me (from Daegu) because he did not want to risk (injury)," Dix said in a text message from South Korea.
He could have competed had the race been the U.S. trials, Dix said.
"It's nothing serious. There is no injury.
"It will be cleared up in a week ... I will be ready for Pre," he added, referring to the June 2 Prefontaine Classic in Eugene, Oregon.
Dix said the tight hamstring was from his quick 200m run last Friday in Doha. He won the race in 20.02 seconds, his fastest ever opening time for the event.
The American finished second to Jamaican Yohan Blake in the world championship 100m last year and was runnerup to triple Olympic champion Usain Bolt in the 200.
Dix also grabbed double bronze medals behind Bolt's record-breaking show at the 2008 Beijing Olympics.
(Reporting By Gene Cherry in Raleigh, North Carolina; Editing by Ian Ransom)