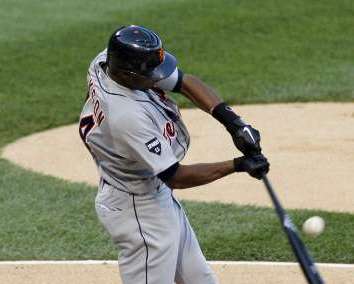 Note: For an end of game Tigers score update, text SCORES to 80373
CHICAGO (WKZO) – An offensive performance that lived up to the offseason hype finally showed up in the sixth inning Tuesday afternoon in Chicago. 3 homeruns highlighted an eight-run sixth inning for Detroit, lifting them over the White Sox 10-8.
Trailing 6-0 in the sixth, Miguel Cabrera started the comeback with a two-run homer over the left field fence. The long ball is Cabrera's eighth of the season. Prince Fielder reached on a bloop-double to left field, and Brenan Boesch was hit by a Jake Peavy fastball. Detroit's second homerun came off the bat of Ryan Raburn, his first of the season, straight out to center field. Raburn's three-run homer cut the lead to 1. After walking Jhonny Peralta, Jake Peavy's day was done.
The Tiger bats continued to pound White Sox reliever Will Ohman. Delmon Young was hit by a 2-2 fastball, moving Peralta to second. Austin Jackson took Ohman long on a 0-2 fastball, his fifth of the year, giving the Tigers their first lead of the afternoon at 8-6. Raburn and Peralta added RBI singles in the seventh inning to extend their lead.
Max Scherzer was roughed up in four innings, surrendering six runs on eight hits including a Paul Konerko home run in the third inning. Collin Balester recorded the win in 1.1 innings striking out one and surrendering a hit.
The Tigers bullpen was tested with Phil Coke, Benoit and Valverde all seeing action. Octavio Dotel inherited a 3-1 count on Alex Rios with two on and two out, and walked him to load the bases. Dotel gave up a double on the next at bat by Alexei Ramirez, putting the go-ahead run at the plate for Chicago. Dayan Viciedo forced Brennan Boesch to the warning track, but Boesch secured the fly ball for the final out.
Jose Valverde left the game in the ninth with back stiffness. No final word on his condition was given after the game.
Detroit returns to Comerica Park tonight to host the Minnesota Twins. Rick Porcello will face Nick Blackburn on the mound. First pitch on AM 590 WKZO is 7:05 pm.