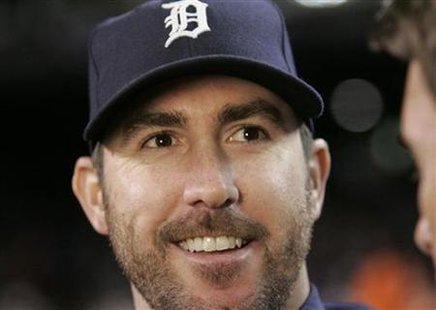 Note: For an end of game Tigers score update, text SCORES to 80373
OAKLAND, CA (WKZO) – In the midst of the rollercoaster ride the Tigers have been on to begin the season, Oakland has been the latest team to give Detroit problems. As advertised, the Tiger's reigning MVP solved most of those problems Sunday afternoon. Justin Verlander allowed two hits and a run, and striking out eight over seven innings. Detroit won the game 3-1 and earned a split in the series after being hammered by former Tiger Brandon Inge in the first two games of the series.
Inge provided the major storyline heading into the series, and lived up to the hype in the first two games. The weekend was a different story, going 0-for-4 Saturday and following that with a 0-for-3 performance Sunday.Oakland scored their lone run in the fifth inning on a Seth Smith solo homerun, accounting for Verlander's only blemish of the afternoon.
Detroit's offense also started in the fifth frame. Austin Jackson reached on a lead-off single line drive to center field. Jackson stole second base on the next pitch, and took third on a wild pitch to Andy Dirks. Miguel Cabrera singled to center field, scoring Jackson. Detroit took the lead on a bases-loaded walk issued by A's relief pitcher Grant Balfour. Cabrera recorded his second RBI of the afternoon in the final frame, scoring Jackson on a ground ball to left center field.
Justin Verlander was lights out in seven innings of work. His game was cut short by a recurring sore that opened on the thumb of his pitching hand. He is expected to stay in the rotation, and will make his next start Friday at home against Pittsburgh.
Detroit travels to US Cellular Field Monday night to take on the White Sox. Drew Smyly will make the start against John Danks. Smyly boasts an AL best 1.59 ERA, allowing two or less runs in his first six Major League starts.
First pitch on AM 590 WKZO is 8:10 pm