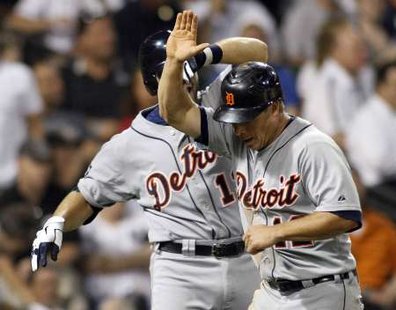 Note: For an end of game Tigers score update, text SCORES to 80373
OAKLAND, CA (WKZO) – Brandon Inge was the storyline for both teams heading into Thursday's series opener between the Tigers and A's. Even Detroit's bullpen couldn't spoil a 10-run performance from the offense, pulling away early and holding on for a 10-6 win over the Athletics.
Max Scherzer gave another strong start, only giving up five hits and fanning nine in 6.1 innings of work. Unlike many of his recent starts, Scherzer got lots of offensive support to pick up his second win of the season.
Andy Dirks started the offensive push in the first frame, blasting his third home run of the year over the right field fence. Dirks has added an offensive spark to Detroit's lineup, finishing the game 4-for-4 from the plate.
The Tiger offense exploded in the third frame, cycling through the lineup before recording the first out. Six runs were scored during that hitting brigade, and two more would cross the plate before the inning was over. Along with Andy Dirks, Miguel Cabrera recorded four hits, finishing 4-for-5 and adding the final run for Detroit in the fifth.
Brandon Inge made things interesting against his former team in eighth inning. Inge finished 1-for-4 from the plate, but made the most of the one hit. With Oakland trailing Detroit 10-2, Inge blasted his second grand slam as an Athletic, cutting the lead in half.
Jose Valverde closed the door in the ninth, recording a strike out and taking the A's out in order to seal the win.
Rick Porcello will start in Game 2. First pitch is set for 10:05 pm Friday on AM 590 WKZO.