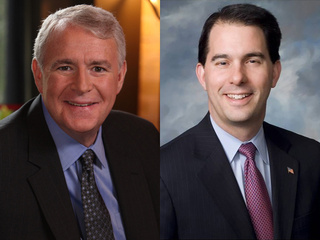 GREEN BAY, WI (WTAQ) - It will be a rematch of the 2010 Wisconsin gubernatorial election on June 5th.
Milwaukee Mayor Tom Barrett defeated three other Democratic candidates in Tuesday night's recall primary to face Governor Scott Walker in just the 3rd recall election of a state governor in U.S. history.
Based on preliminary returns, Barrett garnered 54 percent of the vote. Former Dane County Executive Kathleen Falk finished second with 37 percent. State Senator Kathleen Vinehout had 4 percent, while Secretary of State Doug La Follette got 3 percent and Gladys Huber managed to get less than 1 percent as a protest candidate.
In a statement, Barrett said, "Tonight, I am humbled by and grateful for the support of Wisconsinites across our great state. I want to congratulate Kathleen Falk, Kathleen Vinehout, and Doug La Follette on their incredibly hard-fought campaigns; they are all tremendous public servants and we share the same goals of a Wisconsin that works for everyone - and we are united in knowing that we must work together to end Scott Walker's ideological civil war".
On the GOP side, Walker easily won his primary with about 96 percent of the vote in defeating challenger Arthur Kohl-Riggs.
Back in 2010, the Republican Walker defeated Barrett by 5 points.