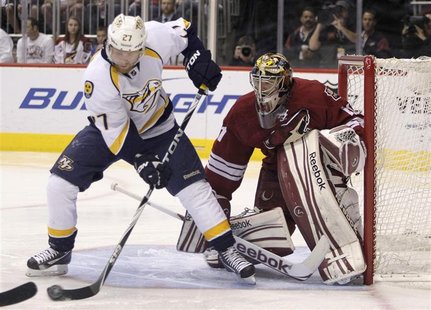 (Reuters) - The Washington Capitals put a devastating Game Five loss behind them with a 2-1 win over the Rangers on Wednesday, sending their NHL Eastern Conference playoff series to a decider in New York.
The Caps had been seconds away from victory on Monday before the Rangers grabbed a last-gasp equalizer and went on to claim the overtime win.
On Wednesday, Alex Ovechkin and Jason Chimera gave the home team a 2-0 lead and while Marian Gaborik pulled one back for the Rangers in the final minute, the Caps hung on to level the best-of-seven series at 3-3.
"Tough" was how Washington's Matt Hendricks described the Game Five loss.
"We knew if we came out and played the same way and stuck to our guns we'd have a great chance to force a Game Seven," he told reporters.
Washington's rookie goaltender Braden Holtby further enhanced his reputation in a remarkable postseason campaign, making 30 saves to keep New York at bay until the closing seconds.
He was less than a minute away from his first postseason shutout when Gaborik sneaked a puck in off the back of a Capitals defender to set up a tense finale.
"We're going to play a good road game, that's in our mind," Holtby said of Saturday's series decider. "We're ready for it. We're going to put in a good effort."
Neither team are strangers to pressure-packed Game Sevens as both needed deciders to win their opening series, the Rangers eliminating Ottawa while the Caps ended Boston's hopes of defending their Stanley Cup title.
The Rangers, top seeds in the East, are looking to advance to their first conference final since 1997 while Washington has not been there since 1998.
The Capitals had won four straight Southeast Division titles only to fall flat in the playoffs, but this season they are Stanley Cup contenders despite the unfamiliar role of seventh-seeded underdogs.
(Writing by Jahmal Corner in Los Angeles; Editing by Peter Rutherford)