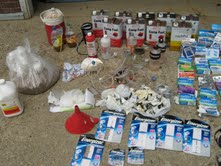 VAN BUREN COUNTY (WKZO) -- A Van Buren County man has been horribly burned in a meth lab mishap early Sunday in Pine Grove Township. Deputies first learned of the explosion from Bronson Emergency Room staff inKalamazoo.
They reported they had a 52-year-old patient who was severely burned, who told them it was a meth lab explosion. Deputies went to his address and found his mother in the home on12th Avenue.
They also found several active meth labs and debris from previous meth cooks in the garage of the home.
They also found several of his fingernails which had burned off his hands and his mother described how the skin fell from his fingers.
The victim's name has not been released and neither has his condition. If he survives he will likely face charges.