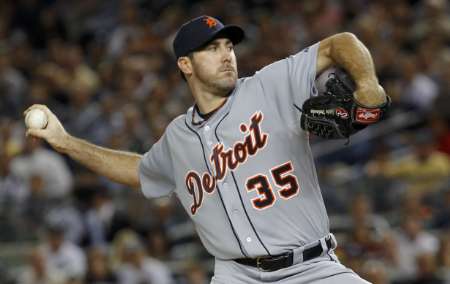 Pittsburgh, PA (1660 THE FAN) - Detroit may have lost the past two games to the Pirates, but this afternoon they narrowly avoided a sweep with a final score of 3-2. The game started on a high point, with rookie Quintin Berry scoring a 2-run homer in the top of the 1st inning. Detroit then kept Pittsburgh at bay well into the 7th inning, when Pirates first baseman Garrett Jones countered with his own 2-run homer.
The only other score of the game belonged to Detroit's Delmon Young, who got a single (courtesy of Berry again) in the middle of the 8th. Also of note, Pittsburgh's manager Clint Hurdle was ejected from the game by umpire Marty Foster in the bottom of the 4th inning for disputing a swinging strike call.
Next up, the Tigers head to Texas for a three-game series against the Rangers. You can catch the action on AM 590 WKZO at 7:40 pm tomorrow night.