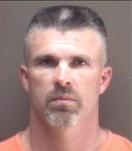 HASTINGS (WKZO) -- Former Major League Baseball player Chad Curtis is facing five counts of criminal sexual conduct for allegedly molesting two teens at Lakewood High School.
A probable cause hearing was set for today in Barry County Court. The 43-year-old Curtis is accused of inappropriately touching the teens during sports therapy while serving as a weight room coach at the school.
Curtis's ten-year pro career included stints with the Detroit Tigers and the New York Yankees.