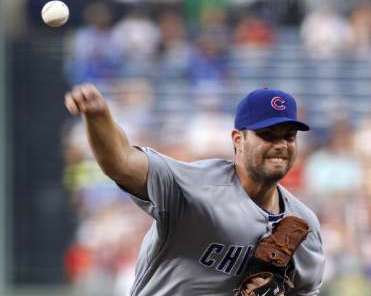 Note: For an end of game Cubs score, text SCORES to 80373
CHICAGO (1660 THE FAN) – A three-run sixth inning lifted the White Sox over their north side neighbors in the series finale 7-0.
Gavin Floyd held the Cubs in check for 6.1 innings, only giving up four hits and a walk while striking out four. Randy Wells was on the hook for the Cubs, giving up three earned run and five hits. He walked four and didn't record a strikeout in 3.2 innings of work.
The White Sox pounded the Cubs for 10 hits in the game. They scored twice in the third on a pair of singles from Adam Dunn and Paul Konerko. Gordon Beckham singled a soft fly ball to right in the fourth, scoring Alejandro to pad their lead. Even with a three-run lead, Beckham's night was far from over.
With two runners on, Beckham's blasted his ninth homerun over the right field fence, extending the lead to 6-0. Alexi Ramirez rounded out the scoring, bringing Alex Rios home on a soft single to right.
Thursday is a travel day for the Cubs. Jeff Samardzija will start Friday in Arizona against Joe Saunders for the Diamondbacks.
Broadcast time is set for 9:05 pm on 1660 The Fan.