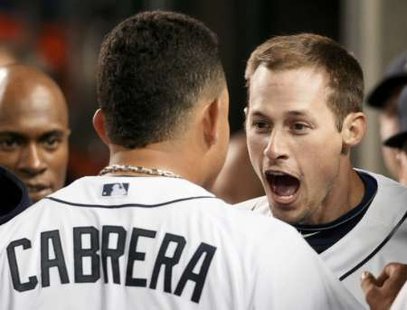 DETROIT, MI (WKZO) - Detroit defeated the Colorado Rockies for the second time in two days. While not able to sweep them in the three-game series, the Tigers kept Colorado from scoring any runs this afternoon with a final score of 5-0. Kelly, Berry, Fielder and Cabrera all scored runs before a brief rain delay postponed the game at the top of the 4th, then Jackson made the final run of the day midway through the 6th.
Detroit's Quintin Berry was the real hero of the game with five hits, a career high. Three hits of the game belonged to Gerald Laird, while Fielder and Cabrera each got an RBI double.
Colorado's Jeremy Guthrie only pitched for three innings, being relieved by Guillermo Moscoso after the rain delay. The Rockies have lost 10 games in the past 11, their only win being to Detroit in the first game of this series.
The Tigers play another three-game series at home against St. Louis, which starts Tuesday at 6:40 pm on AM 590 WKZO, then they're off to Pittsburgh for a series against the Pirates starting on Friday.