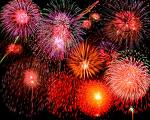 KALAMAZOO (WKZO) -- Different towns have different attitudes towards fireworks.
The City of Grand Rapids has given preliminary approval to an ordinance banning the use of fireworks between holidays, and some council members said if they could ban it on holidays too, they would. The were motivated to act after dozens of citizen complaints about noise.
But no such ordinances are under consideration in Kalamazoo or Portage. City Attorney Clyde Robinson says he has not been asked to work on one, and Portage City Manager Maurice Evans says they haven't gotten any complaints.
The new state law allows local municipalities to ban fireworks, but not on the day before or after the holiday, or the holiday itself.