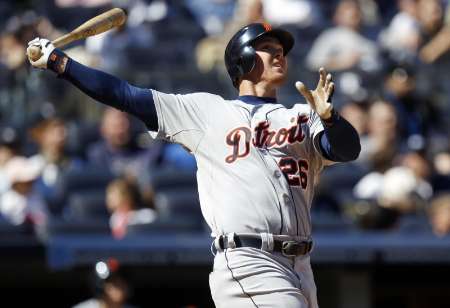 Note: For an end of game Tigers score update, text SCORES to 80373
CINCINNATI, OH (1660 THE FAN) – The Tigers scored four runs in the eighth inning Sunday to steal the game and the series from the Cincinnati Reds, 7-6.
Detroit, as they have for most of May and June, sputtered in the early innings with Drew Smyly on the mound. In three innings, Smyly surrendered three runs on four hits before leaving the game with a blood blister on his throwing hand. Luis Marte, Bryan Villarreal and Joaquin Benoit pitched in relief, giving up three runs on eight hits.
Reds' starter, Homer Bailey, kept the Tigers bats quiet into the fourth frame. Trailing 3-0, Ramon Santiago scored Prince Fielder on a two-out single to second base.
Cincinnati padded their lead in the bottom of the fourth when Devin Mesoraco sent a solo shot over the left field fence. Todd Frazer added a clutch two-run homer in the sixth frame, rounding out the scoring for the Reds.
Austin Jackson blasted a solo shot of his own in the fifth frame for Detroit, keeping the game within reach at 4-2. After the Frazer homerun, a deflated Tiger dugout headed into the seventh inning down 6-2. Prince Fielder delivered in the seventh with a two-out RBI single.
Trailing by three runs in the eighth, Ramon Santiago drew a walk, and advanced to second on a Gerald Laird bloop single to shortstop. With two on and nobody out, Dusty Baker brought in his closer, Aroldis Chapman. Jim Leyland countered by bringing Brennan Boesch in to pinch hit, and that gamble paid off.
Boesch singled to right to advance the runners, still with nobody out. Matt Young was hit on the next pitch, scoring Ramon Santiago, and cutting the lead to 6-4. Fresh from the disabled list, Austin Jackson continued his comeback, slicing a line drive to left. A Reds' fan interfered with the play as the ball rolled to the third baseline wall. The fan interference call scored Gerald Laird and Herman Perez. Matt Young scored from third on the next play, a wild pitch from Chapman, giving Detroit the lead, 7-6.
The Tigers held that lead thanks to Joaquin Benoit and Jose Valverde. The pair of pitching aces combined for two shutout innings to give Detroit their first two-game winning streak in the last 48 games.
Monday is a travel day for the Tigers. They begin a three-game set with the Cubs on Tuesday. Max Scherzer is slated to make the start in the series opener from Wrigley. Carolyn Binder and Nick Vliestra will be in Chicago to bring you full coverage of the game. Tigers fans tune into AM 590 WKZO, and Cubs fans can tune into 1660 The Fan. First pitch is set for 8:05 pm.