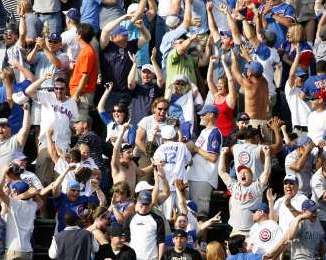 MINNEAPOLIS, MN (1660 THE FAN) - After losing the first two games of a three-game series against the Twins, Chicago pulled through in this afternoon's game with a final score of 8-2. Although no home runs were hit, the Cubs had several fine plays (including a two-run double from David DeJesus and six strikeouts from starting pitcher Ryan Dempster,) and managed to keep the Twins from scoring until well into the 9th inning.
Minnesota's only scores came from Josh Willingham and Justin Morneau, the latter courtesy of a Jamey Carroll double. The game also saw a decent save from Chicago's Castro, who, after letting a ball bounce out of his glove, managed to scoop it up and throw it to the plate just in time to keep the Twins score-less.
You can hear David DeJesus' two-run double in the middle of the ninth by clicking above.
The Cubs take a much-deserved break tomorrow, then head home for a three-game series against the TIgers. Game one can be heard on 1660 The Fan at 7:30 pm Tuesday evening, or ten minutes later at 7:40 pm on AM 590 WKZO.