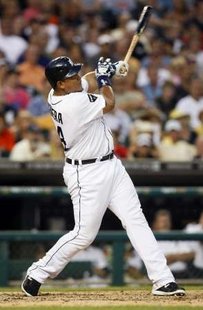 Note: For an end of game Tigers score update, text SCORES to 80373
DETROIT (1660 THE FAN) – Looking for their first win over Cleveland this year, the Tigers scored four runs in the opening frame on their way to a 7-5 win over the Indians at Comerica Park.
Detroit had their way with Indians' starter, Derek Lowe. Lowe went five innings, giving up seven earned runs and striking out four.
With two on and one out, Quintin Berry scored on a Prince Fielder RBI single to open the scoring in the first. Delmon Young brought Brennan Boesch home on the next pitch, advancing Fielder to second base. A wild pitch to Don Kelly scored Prince Fielder, Jhonny Peralta moved up to secondbase. Don Kelly battled Lowe, driving a 3-1 sinker to right field, scoringJhonny Peralta for the final run of the frame.
Miguel Cabrera added three runs to that lead on his 13th long ball of the year in the fourth inning.
Casey Crosby made his second start for Detroit, filling in for Doug Fister. In 5.1 innings, the rookie starter gave up three runs; all earned on five hits, and fanned pair of batters to pick up his first major league win. Bryan Vilarreal, Phil Coke and Joaquin Benoit all saw time in relief. Jose Valverde took Cleveland out in order in the ninth to record the save.
The Indians scored two runs in the sixth and seventh innings, cutting the Tigers lead to two. The defense stood tall, and Valverde forced three consecutive fly-outs in the final frame to avoid being swept by Cleveland for a second time in 2012.
With the win, Detroit pulls within a game of the Indians in the AL Central, 5.5 games back of the Chicago White Sox. The Tigers look to take this momentum on the road to Cincinnati. Rick Porcello is the starter for game one of a four game set with the Reds.
First pitch on AM 590 WKZO is 7:10 pm.