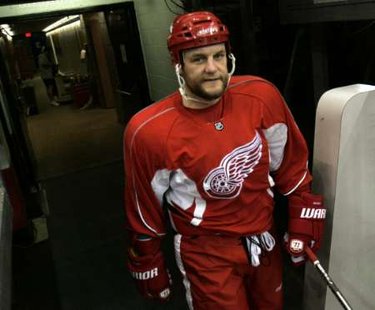 PONTIAC, MI (1660 THE FAN) – Retired Red Wing star and his wife have ordered personal protection orders against four former friends in suburban Detroit.
McCarty currently works for the Detroit Red Wings Alumni Association. In court documents released Wednesday, McCarty claims the foursome has tried to get him and his wife fired from their jobs, and slandered the couple on their website. According to the court documents, the harassment has included spiteful text and phone messages, and most recently death threats within the past month.
The 15-year NHL veteran and his wife, Sheryl McCarty, were granted the protection orders against three women and one man. Sheryl McCarty, a nurse, described the former friends as "delusional hockey fans" who never respected her husband, but they "loved number 25".
After his retirement in 2009, McCarty fell into a partying lifestyle, a battle he had dealt with once before in rehab during the 1990's. Sheryl McCarty wrote that the four former friends were a bad influence on her husband in a letter to the court. All four deny the claims against them, but couldn't comment any further due to the orders.
Darren McCarty spent 13 seasons with the Red Wings, scoring the Cup-winning goal in the 1997 finals against Philadelphia, and ending Detroit's 42-year title drought. McCarty also helped the Wings hoist the Cup in 1998, 2002 and 2008. He quickly became a fan favorite as Hockeytown's favorite enforcer. McCarty appeared in 758 career games, recording 127 goals and logging 1,477 penalty minutes.