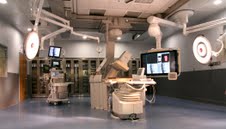 KALAMAZOO (WKZO) -- Borgess Medical Center will be putting two of the most advanced "hybrid" endovascular surgical suites in the world on line today.
What makes it different is that it provides all the facilities of a traditional operating room with advanced X-ray gear and the ability to do minimally invasive vascular surgeries, which means that patients don't have to be moved for complex procedures, cutting the risk of infection.
Dr.James McLaren says this will permit them to do procedures they can't do now, and allow them to do the things they do now even better.
They call the 4-million dollar upgrade the surgical suites of the future.