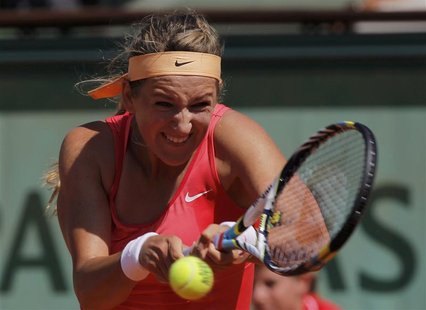 PARIS (Reuters) - World number one Victoria Azarenka put on yet another display of power as she beat Canada's Aleksandra Wozniak 6-4 6-4 in a one-dimensional third-round match at the French Open on Friday.
The Australian Open champion from Belarus came out on top of a hard-hitting contest after 86 minutes just before dusk on Court One.
Azarenka, who will retain her world number one spot if she reaches the quarter-finals on the Parisian clay, broke decisively in the ninth game to claim the opening set and she was barely bothered in the second.
She will next face Slovakian 15th seed Dominika Cibulkova, who beat Spain's Maria Jose Martinez Sanchez 6-2 6-1.
(Reporting by Julien Pretot; Editing by Clare Fallon)