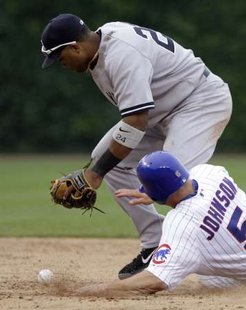 For an end of game score update, text SCORES to 80373.
CHICAGO, IL (1660 THE FAN) - Chicago might not have the best luck against the Cardinals this season, but today's game showed that St. Louis doesn't ALWAYS come out on top. With a final score of 3-2, the Cubs managed to take the win after an incredibly close second half.
Things didn't start out too promising; St. Louis took the lead early on, but a triple from Alfonso Soriano turned things around. Then, after spending the majority of the 6th and 7th innings tied, Reed Johnson surprised Cardinals relief pitcher Brian Fuentes with a bunt. Tony Campana scored, and the Cubs held the lead til the end of the game.
The series could go either way at this point, but regardless, game three will be on 1660 The Fan tomorrow afternoon at 1:45 PM. Then, the Pirates come to Wrigley for their second series against Chicago this month.