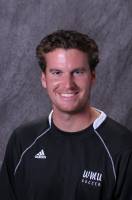 KALAMAZOO (1660 THE FAN) – Western Michigan's Division of Intercollegiate Athletics has named Nate Norman as head coach of the women's soccer team. Norman becomes the fourth head coach in the program's history.
A native of Michigan, Norman served the program as an assistant coach in 2010 before going to the University of Miami last season. As an assistant in Miami, he helped the Hurricanes to their first NCAA Tournament win in program history, while also lifting the team to the highest GPA in theAtlantic Coast Conference.
In 2010, Norman helped the Lady Broncos to a MAC Tournament Championship berth, and coached Stephanie Skenowski, WMU's first ever MAC Offensive Player of the Year.
A graduate of Notre Dame, Nate Norman also served as an assistant at Convenant College and a volunteer assistant at his alma mater. He was drafted 21st overall in the MLS Super Draft by the Chicago Fire in 2007.