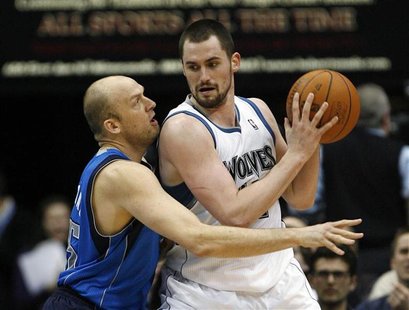 (Reuters) - The Minnesota Timberwolves secured the cornerstone of their franchise by agreeing to four-year contract extension with All-Star forward Kevin Love, the National Basketball Association (NBA) team said on Wednesday.
The Timberwolves did not disclose financial terms of the contract but Minnesota media reported the deal was worth over $60 million.
"Kevin's decision to commit to the Timberwolves for several more years is, I hope, validation that our team is headed in the right direction," David Kahn, the Timberwolves' President of Basketball Operation, said in a statement. "(He) is the cornerstone of this team."
Love, who is averaging a team-leading 24.9 points and 13.9 rebounds a game for the struggling Timberwolves, was due to become an unrestricted restricted free agent in the offseason.
He ranks second in the NBA to Orlando's Dwight Howard in rebounding and stands fourth in scoring while playing on a Timberwolves (7-10) team that is last in the Northwest Division.
Love, 23, was named the NBA's most improved player last season after becoming the first player to average more than 20 points and 15 rebounds a game since Hall of Famer Moses Malone in 1982-83.
(Reporting By Gene Cherry in Salvo North Carolina; Editing by Frank Pingue)