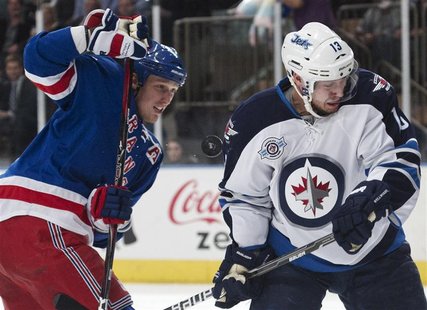 - (Reuters) - The New York Rangers put the finishing touches on an ideal first-half of the season with a 3-0 shutout of the Winnipeg Jets on Tuesday, keeping them on top of the Eastern Conference heading into the All Star Break.
Henrik Lundqvist stopped all 22 shots he faced as he heads to this weekend's All Star Game while the home team got a goal in each period from Ryan Callahan, John Mitchell and Brad Richards in a comfortable victory.
The win moved New York (31-12-4) two points clear of Boston for first place in the East.
The Jets (22-22-6), fighting to move into playoff contention, slipped to their third straight loss as they failed to pose any real offensive threat.
(Writing by Jahmal Corner in Los Angeles)