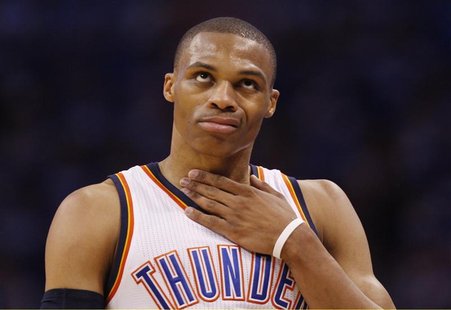 (Reuters) - Oklahoma City All-Star point guard Russell Westbrook has capped a memorable week by signing a five-year contract extension with the Western Conference leading Thunder worth a reported $80 million.
The signing comes on the heels of the rapidly developing guard scoring a career-high 36 points against the Washington Wizards Wednesday, just two days after he was named to the 20 player pool for the U.S. men's 2012 London Olympic basketball team.
"They've (The Thunder) been great in just believing in me throughout thick and thin and ups and downs. ... I love to be somewhere you're appreciated," Westbrook told The Oklahoman newspaper.
"(People) didn't really think I could play the point," said the 2008 first round draft choice who gained notice as the third-leading scorer on the undefeated U.S. 2010 world championship team.
The signing should help make the Thunder one of the National Basketball Association's (NBA) top team for years to come with high-scoring All-Star forward Kevin Durant already under contract through 2016.
Westbrook, 23, could have become a restricted free agent at the end of the season if he had not signed the extension, which runs through the 2016-17 season.
"Since we arrived in Oklahoma City, Russell's work ethic, persistence, character, and involvement in our community have helped us establish the standards that we are committed to," Thunder General Manager Sam Presti said in a statement.
Westbrook is averaging 17.9 points, 7.0 assists, 4.8 rebounds and 1.5 steals for his three-plus seasons in the NBA.
He along with LeBron James, Chris Paul, Anfernee Hardaway and Oscar Robertson are the only NBA players ever to record 4,000 points, 1,500 assists and 1,000 rebounds through their first three seasons in the league.
(Reporting By Gene Cherry in Salvo North Carolina)